I'm back bitches!!! I have been without my computer for a looooong time and finally the AC adapter is functioning...The sun has been shining for a couple of days, which is very welcome after all the rain!! I went for a powerwalk with J. yesterday and today my butt is sore haha...After the walk I went with J. and her brother D. to a public pool...In Sweden public pools are not like the ones I have seen in LA, these pools are clean and since pools in the backyard is not as common as in LA all kinds of people are there..I did not swim but instead we spend hours tanning. The result is; my face and upper body are RED and itchy hahaha and the rest are a little tan...I have no clue why my body tans so uneven but I guess it may have to do with the fact that I was sitting, with the sun on my right side, playing cards with J. and D. Anyways, on to some less silly news...As most of you cannot have missed, Michael Jackson has passed away. It was not long ago we heard about his condition but I don't think anyone could have expected him to pass away. The last years of his life have been all about child molesting, surgery, poverty and other negative things however, this was going to change as he was about to start his last tour. It is bitter to know that he could not finish his amazing musical career as we all know he would, a loud bang! MJ has inspired many artists and will continue to inspire many more to come. He has broken boundaries within the entertainment business and set new goals for artists to reach. He used his gift and touched millions of hearts. Michael Jackson was, with no doubt, a music prodigy and will be remembered as the King of Pop! Rest in Peace Michael Jackson...you live on in your music....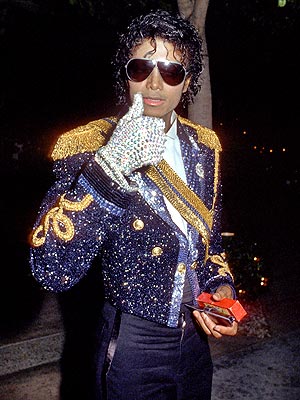 (MJ wearing his famous glove and jacket :))
Now me and my sunburned face need to get dressed and head out to meet my dear friend M.
Until later
xoxo