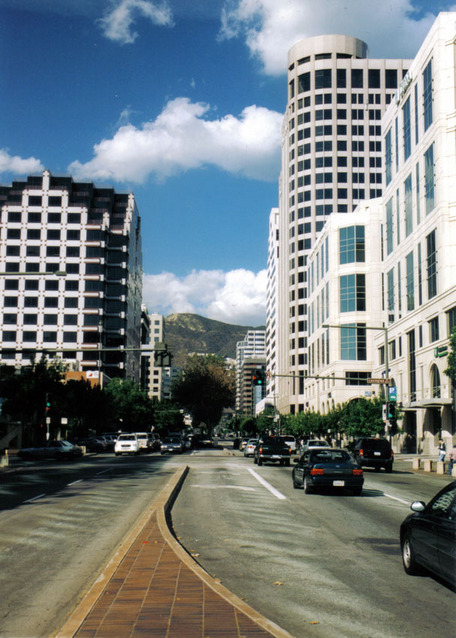 (One of the main streets in Glendale, Brand. It looks different now but this is where I used to live)
I used to live in Glendale, CA, when I first moved to USA. At first I was shocked at the large number of Armenians living there (majority in Glendale are Armenians) but then I felt like home. The city is safe and friendly (most of the time and I also believe it is because I can pull off looking like an Armenian haha) and walking around the city is no problem. For the lazy ones there is a bus that is "ok" to take as it takes you all over Glendale (beeline) and to nearby cities. Me and S. really miss Glendale after living here in Northridge.
If I choose to stay here in California I want to live in Pasadena, great city, and build a family. Pasadena is really close to Glendale and other cities and there is so much to do there. The neighborhood in some of the places are really quiet and safe meaning great to raise children. I do not know why I am thinking about family already considering I have no special someone in my life at the moment haha. I guess it is my biological clock ticking. I have always loved children and wanted like 4-5 children but now I think I want around 3. Funny thing is that just a couple of months ago, and years, I really wanted to get married and settle down but last night I spoke with A. and came to the conclusion I do not have that need any longer. I want to have a family of my own in the future but for now I want to live my life and experience as much as possible. When I am ready for marriage there will be no other thoughts in mind. Now I am just rambling on again as usual.
My whole intention of talking about Glendale was to tell you that now that I am looking for jobs, most of them are in Glendale and mostly law firms. Interesting that I moved from the city that has what I need at this moment. To get from here to Glendale takes about 20 minutes by car so you can understand that without a car it is gonna be tough. Well, I will apply and will take it from there, if I get a job I will find a way to get to Glendale and if I do not then I will keep looking. Now S. is studying for her midterm tomorrow so I will try to help her as it is media law, very interesting. Until later fellow people
xoxo