Today is Superbowl Sunday, and for my Swedish readers this is a very important day for Americans as they sit in front of the TV, gathered with friends and family, with finger food and LOTS of beer watching American Football. This day is an excuse for some people to drink and scream at the TV on a Sunday haha. I have never participated in any of these events but will most likely do so one day as I am a sports fan and love to scream at the TV! The European/World version of this "holiday" is European Football cup and World Football cup (for all "soccer" countries). When the European or World Cup is on, my summers turn in to days of calling friends to see when games are playing and what has happened with games I missed to watch. I sit in front of the TV and yell my head off at the players but mostly the referees (some I just wanna slap) and my competitive side comes out. If my team loses I literally can mope around for days and claim cheating and come up with tons of conspiracy theories and so on (I am a very sore loser and hate when my team I cheer for loses because it feels like I am losing too). Anyways I thought I would give you guys a fun definition of Superbowl Sunday I found on answers.com.
"Super Bowl Sunday, the second-biggest eating day of the year (
Thanksgiving
is first) but No. 1 in snack food consumption, is about more than football. It's a framework upon which to stitch together a tapestry of friends, food and fun that, with a bit of party planning, can appeal even to confirmed non-sports fans. And while it's not true that cities' sewage systems are at risk during halftime due to increased flushing or that Disneyland is all but deserted — both enduring myths — it is true that the location of choice for many Americans on Super Bowl Sunday is in front of the TV screen. In fact, Super Bowls dominate the list of all-time highest-rated telecasts, and sales of
big-screen TVs
increased 500% the week before XXXIX.
Part of the attraction is the halftime and pre-game entertainment. The week after
Paul McCartney
played halftime in 2005, his catalog sales jumped 250%.
Janet Jackson
's infamous 2004 "wardrobe malfunction" was news fodder for weeks. The innovative and extravagant commercials also draw their share of fans. But for most viewers, the game is the essence of Super Bowl Sunday."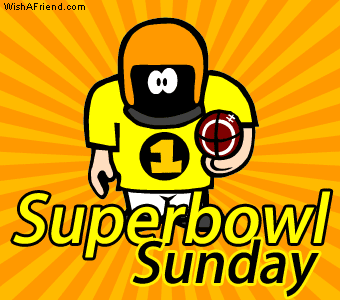 Now I am getting jealous of my neighbors yelling OOOHHH and AAAAAA and NOOOO!!!! so I might actually stop by our neighbors that have invited everyone over to their unit to watch the game and get to know all our neighbors. Until next time....
xoxo